Apr 1, 2018 06:13 PM Central
Dave and Terry Martineau
🌿 🌸Spring has sprung and Young Living is all about getting seasonal support this month, your gut health, and continuing to get toxins out of your house with your Spring cleaning! The promos this month are exactly what you need as the seasons change and the warmer weather starts to roll in. 🌿 🌸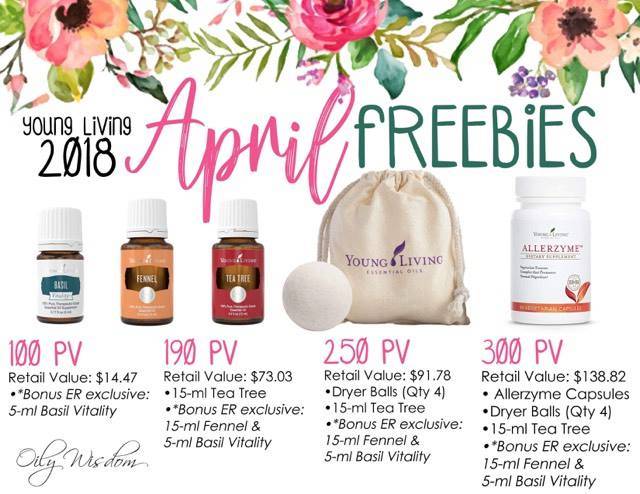 ➕ Basil 🌿 Vitality: Use this essential oil to support the respiratory and immune systems with seasonal changes. It's great for the muscles and actually does wonders for head tension too! It's one of the oils used in the Raindrop technique and we always keep a good stock of Raindrop oils at our house. And for any cooks, add some freshness to your soups, salad dressings, marinades or sauces with Basil. You know how concentrated our oils are so I suggest using a toothpick size amount in your cooking and you can add more if you want.
➕ Fennel: I always think of fennel as the great digestive aid. In fact, many Indian restaurants keep them at the checkout stand! Fennel Vitality is helpful to rev up the metabolism and support healthy digestion! Fennel is a great one for nursing moms to create a peaceful aroma Fennel for themselves and their babies when either applied topically or diffused. It's a great oil to diffuse when you are wanting to help focus too.
➕ Tea Tree: A staple for every home! Lots of great cleaning DIYs you can do with this essential oil. Just hop on Pinterest and you'll see. You can use it for nasal irrigation (Neti pots or tenting) - sweet breathing never felt so good with some Tea Tree and salt water nasal flushes. 👃 This is also a great oil for skin- for blemish prone skin, to a healthy scalp, adding Tea Tree into your YL shampoo or facial washes gives your skin the extra support it needs. Aromatically it cleanses the air and has a refreshing aroma. Try this diffusing trio out - 4 drops Tea Tree, 4 drops Rosemary and 5 drops Lemon essential oils for a yummy smelling and purifying experience. And you know where else to use this oil? On wool dryer balls (get for FREE this month) and a few drops in challenging workout gear or pet loads of laundry!
➕ Wool Dryer Balls: WOOHOOOOO!!! One of the great ways to continue getting rid of toxins from your home this spring is ditching and switching your toxic dryer sheets for these great wool dryer balls! It's such an easy switch. Add 3-5 drops of your choice of essential oil to each dryer ball and freshen up that laundry. Purification is one of our fave oils to use on our wool balls to eliminate orders. Tea Tree and the citrus oils are refreshing and no one tires of Lavender-infused laundry!
➕ Allerzyme: This YL supplement in the monthly promos will be a game changers! It is a wonderful supplement to take during season changes when and our diets change. And so many of us never try these supplements until we get them for FREE and realize we need them in our wellness cabinets. This enzyme promotes digestion and is especially good for anyone who struggles with digesting carbs!
Want to learn more about Allerzyme?
👇 👇 👇 👇 Read on!
There are several natural ingredients as well as 8 essential oils in Allerzyme Digestive Enzymes Supplement.
The natural ingredients include:
*Protease 3, 4.5 and 6 - enzymes that help to digest protein.
*Amylase - enzymes which digests starch, carbohydrates and sugars.
*Cellulase – This enzyme helps to digest plant material.
*Invertase – Enzyme which assists in the breakdown of sugars. Converts sucrose to glucose and fructose.
*Lipase – Enzyme which helps to digest fat.
*Peptidase – Helps to break down proteins into amino acids.
*Phytase – Catalyzes Phytic acid which is found in foods containing phosphorous including grains and oil seeds.
*Bromelain – A plant derived enzyme coming from pineapple stems that helps to digest carbohydrates.
*Lactase – Assists in the break down dairy products (milk sugars).
*Alpha galactosidase – assists in the break down beans, legumes, seeds, soy products, roots and underground stems.
*Malt Diastase – Along with amylase it has the ability to break down sugars and carbohydrates into simpler sugars especially grains.
*Plantain (sulfite free) – Supports a healthy digestive system.
*Barley sprout powder – Super nutritious powder that is full of natural plant enzymes.
*Vegetable cellulose
*Silica
*Deionized water
Allerzyme Digestive Enzymes supplement are, of course, infused with our essential oils to support healthy digestion! Fennel, Tarragon, Peppermint, Ginger, Lemongrass, Juniper, Patchouli and Anise essential oils.
Another amazing month of gifts from Young Living! With the amazing Essential Rewards program you are gifted more!